Why Ramboll?
Ramboll are established pioneers in timber with a strong and diverse portfolio of timber projects across Europe.
Established timber pioneers with a diverse timber portfolio
Ramboll has been pioneering the use of mass timber for over 15-years and have worked on some of the biggest and tallest timber structures in the world, as well as on smaller and more unique projects. This has included the world's largest cross laminated timber building by volume, the residential Dalston Works development in London and Sweden's tallest timber building, the mixed-use Kromet scheme in Gothenburg.
Through to Steinkjer school in Norway, the RIBA Sterling Prize winning restoration of Hastings Pier on the UK's south coast, and even a 16ft timber art installation, Talking Heads, in London.

Our diverse timber portfolio that spans schools, houses, cultural buildings and high-rise, demonstrates our leading expertise in the technical application of timber.
We have partnered with academia and commercial partners including Cambridge University, Imperial College London and the Timber Research and Development Association, to push the boundaries of timber and timber hybrids to truly maximise the potential of timber and have proven timbers versatility and ability to deliver complex forms.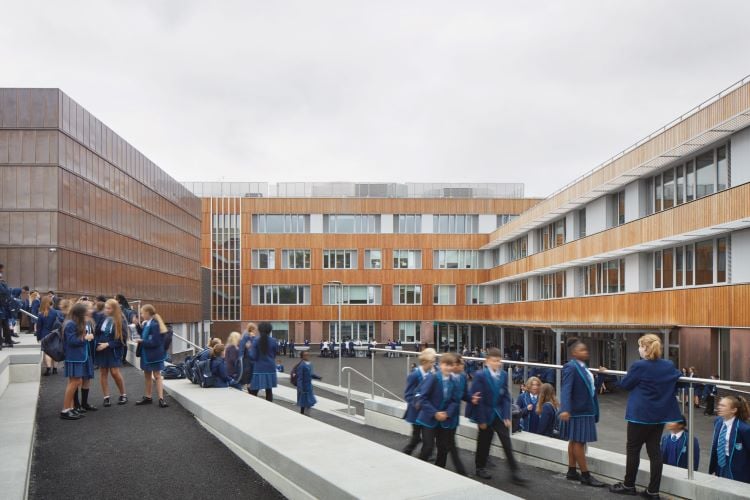 Project: Harris Academy, UK
Full circle multi-disciplinary timber experience
Ramboll's timber network brings together bright minds from across Sweden, Norway, Finland, Denmark and the UK. We have been working with timber longer than most and have designed over 100 timber buildings equating to over 30,000m3 of timber and 100,000m2 of floor space.
We have a wealth of timber experience, working with end-clients, authorities, architects, developers, contractors and specialist sub-consultants throughout the whole lifecycle of a project, from concept, onto design and build, and into operation.

The depth and breadth of our timber experience has enabled us to truly hone our craft, to know where timber works best and how to plan, design, cost and construct with timber. We are renowned and established timber expert's adept at partnering with project teams to ensure we deliver efficient, lasting and high-quality solutions.
As a specialist timber team within a leading multidisciplinary design and engineering consultancy, we deliver holistic designs as we bring a full appreciation of other disciplines, their impacts and interdependencies; from acoustics and vibration to air quality and energy.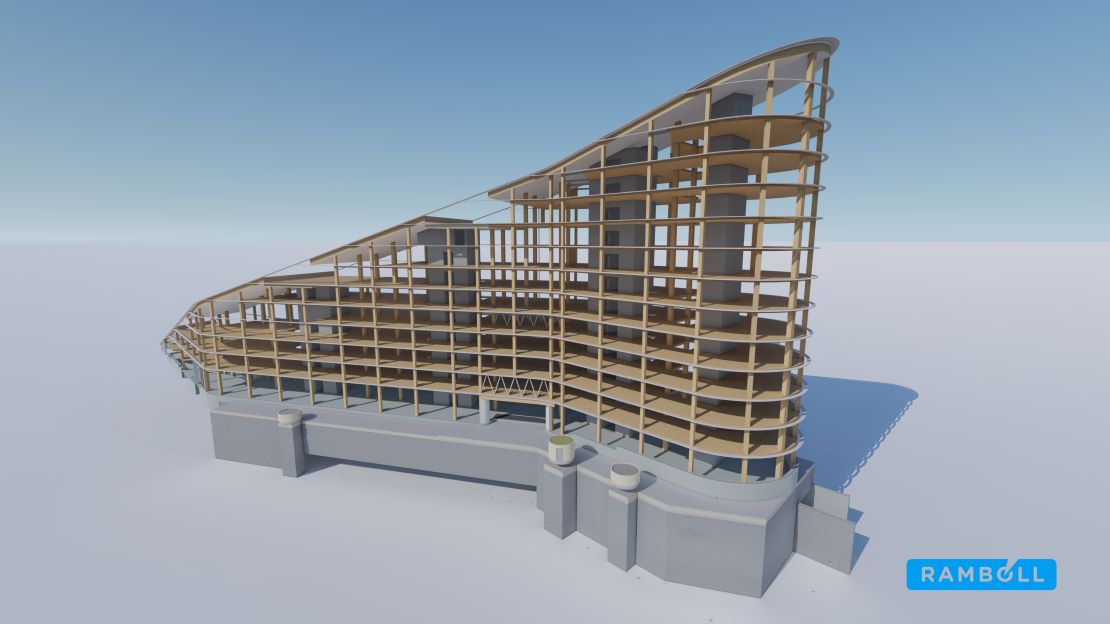 Project: Keilaniemen Portti, Finland
Leading provider of holistic sustainable solutions
Being a responsible business with sustainable practices has been part of Ramboll's DNA since the company's inception. We therefore bring a 75-year legacy of sustainability and are a recognised leader in providing sustainable solutions. This is reflected in our mission to 'create sustainable societies where people and nature flourish' and in the fact that in 2019, 59% of our revenue directly contributed to the UN Sustainable Development Goals.

As a global consultancy, our experts understand all materials and can confidently help to determine the most suitable material for each individual project. We see mass timber as a renewable natural material capable of carbon storage which should be considered as a mainstream construction material alongside concrete and steel.
We understand where we can shift the balance of materials used and where we can reduce more carbon-intense materials and processes.

Our buildings business is ranked Top 3 in Europe by ENR. We design over 10 million m2 of buildings every year, working across both the big and iconic through to small and specialist projects.
We challenge assumptions, innovate and ensure our solutions are distinctive, sustainable, economical and practical and are proud to have a high degree of repeat clients and numerous awards to our name.