The UK's largest Passivhaus school which features cross laminated timber as its main structural element and has brought many benefits to the school.

Harris Academy in south London opened in 2018. It is a four-storey 10,000m2 school accommodating 1,275 pupils and nearly 100 members of staff.

The Academy boasts ideal internal temperatures all year round with superb air quality, natural light and exposed timber all contributing to a much better learning environment for the students, and for the local community that make use of some of the schools' facilities outside of school hours. The timber roofs also reflect the natural harmony of the building and sit well with the areas sloping landscape.
Performance
The air tightness is fourteen times lower than current building regulations and with only 0.30 air changes per hour, it delivers to less than half the Passivhaus requirement.

The design approach taken at the Harris Academy means they enjoy much lower operating costs and a very low carbon footprint.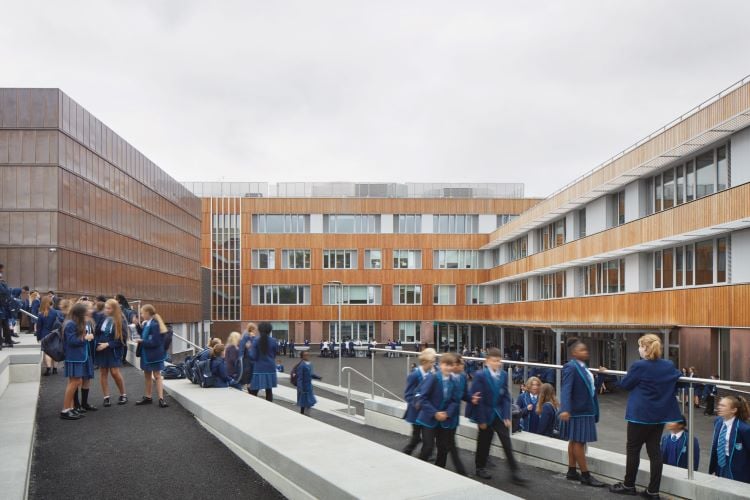 Timber at Harris Academy
A high degree of timber has been used across its superstructure, columns, beams, wall and slab elements. The building is clad with Douglas fir and has a European spruce glulam and CLT structure.

The superstructure consists predominantly of an offsite manufactured glulam beam and columns, with cross laminated timber wall and slab elements. The glulam framed structure has a concrete plinth and the cross laminated timber panelled superstructure includes some steel elements.

As a Passivhaus structure, Ramboll's specialist timber team designed the structural frame to accommodate a significant amount of services. We also designed and detailed all the timber connections on the development. Indeed, the entire project team and supply-chain for Harris Academy worked closely together to ensure we maximised the value of the scheme, improved onsite H&S and made the structure easy to build with simple detailing.
Awards
Winner of Civic Building of the Year at SPACES Awards 2021. The awards are solely dedicated to rewarding excellence, collaboration and innovation in construction projects delivered within the Public Sector.
Shortlisted for the Wood Awards 2020 in the Education & Public sector.