Projects are delivered faster and cheaper
Building with timber can reduce total project costs when compared to traditional materials such as concrete. It is much faster to build with timber; it simplifies a lot of processes.
Timber lends itself to a higher degree of prefabrication over concrete, and which has simpler connections and detailing, fewer interior works and no waste. The accelerated construction process delivers substantial savings, as well as bringing buildings into use much sooner, bringing forward the return on investment. Overall material costs can also be reduced.
With timber weighing a fifth of concrete, the need for secondary steelwork is significantly reduced or removed, and foundation loads can be reduced by around 30-45% which can mean the difference between shallow or deep foundations. With ever increasing pressure to deliver quality buildings economically, we should look to make much greater use of this highly sustainable material and consider it a mainstream material.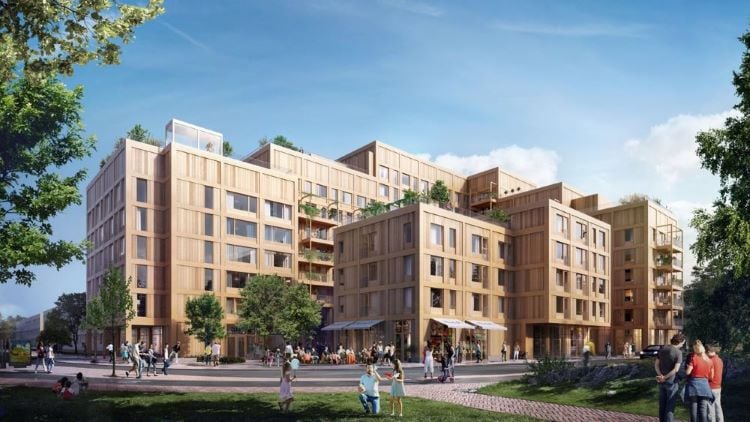 Project: Ör Centrum, Sweden
Construction sites are quieter and streamlined
Engineered mass timber enables a higher degree of offsite prefabrication than concrete and can typically reduce the number of deliveries to site by five times, making a significant positive impact on site noise, movement and air quality, as well as with associated savings in fuel and carbon.
Timber also serves to reduce the number of people onsite, as whilst internal works vary in different countries, timber can eliminate the need for works such as onsite welding and casting, as well as interior blockwork, partitioning, plastering and skimming.
The lightweight material lends itself to shallow foundations and therefore minimises onsite piling, as well as enabling the lifting of elements close to and over existing buildings which helps to simplify the construction process and even make difficult sites viable for development. Furthermore, advances in engineered timber and greater experience in the design of sites and site works, serve to remove any concern of working with an organic material.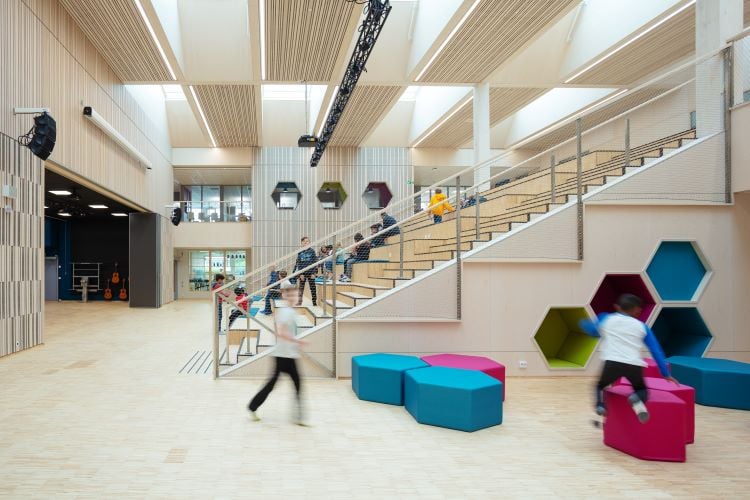 Project: Steinkjer School, Norway
Carbon is reduced and quality improved
Timber is a renewable, sustainable, low-carbon and high-quality material that can now achieve highly complex forms, striking architectural features and a sense of closeness to nature to promote wellbeing. With intense focus on climate change, authorities and investors alike are seeking out low-carbon climate resilient solutions.
Timber has less than half the embodied carbon of concrete and when sequestration is taken into account (timbers ability for long-term carbon storage), timber can deliver a carbon negative solution. As trees grow, they effectively store Co2 from the atmosphere, and sequester it away in the timber. Every metre cubed of timber sequesters around 800kg of Co2.
It is far less energy intensive to produce and apply than concrete or steel, and life cycle assessment studies consistently show that timber outperforms steel and concrete in terms of embodied energy, air pollution and water pollution.
The increased local production of mass timber products also reduces associated embodied carbon from across the supply-chain, whilst the greater air tightness of timber over concrete also reduces operational carbon. Mass timer products such as glue laminated timber and cross laminated timber can come from managed forests. If timber comes from managed forests, for every tree that is cut down – one, two or even more are planted in its place.
Innovation in engineered timber has proven its structural strength and the high-quality and lasting finish it brings, as well as having demonstrated its versatility and viability in schemes of different shapes and sizes, from short-span and low-rise to long-span and high-rise.
Timber is a durable material. We know this as some of the oldest buildings in the world are constructed from timber and they have stood the test of time. Its flexibility should also be considered as part of the building's total lifespan, where timber is easier to dismantle, re-purpose and to add additional new areas on top of existing structures.

When you bring all of this together and consider the drive to reduce carbon and costs in construction, mass timber presents a fantastic opportunity and should be considered alongside steel and concrete as a mainstream construction material.