LET'S FIND YOUR PRICE
Tell us a bit about your self and your business needs - and we will get back to you with the pricing of your Incept Sustainability solution.
LEARN, ANALYSE & ACT:
EMPOWER SUSTAINABILITY
Incept Sustainability offers you a unique combination of e-learning and analytics software. This empowers sustainable change in your company by engaging employees.
See how it works: Fill in the form on this page and we will get back to you with more info on a pricing model that will fit your needs.

We look forward to hearing from you and hopefully support your sustainability journey.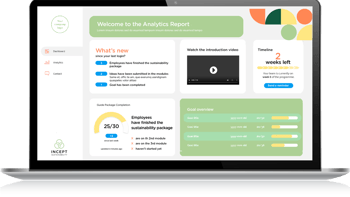 GET INFO ABOUT PRICING
Fill in the form and we will get in touch.
INCEPT SUSTAINABILITY
Achieving sustainability together.
E-learning and company analytics combined.