National: Denmark
The Maersk Bridge
In Denmark, The Capital Region of Denmark oversaw a national coordinated action with the aim to secure and purchase medical supplies to the healthcare system on behalf of the municipalities and regions. The national coordinated strategy contained 3 elements:
an overview of the stocks of medical supplies
securing national production of medical supplies
government purchase and securing of transportation of medical supplies
The last part was done in close coordination with a group of Danish companies in a public-private cooperation. Private companies helped with contacts, knowledge and specific resources, i.e. Mærsk, who could secure air transportation. The private companies were also able to help with on onsite representatives with local insight in the manufacturing countries which had a positive impact in securing quality and coordination. The project ended of securing 6 months of medical supplies and an emergency stock supply for 6 months[1]. The centralized coordination has secured the Danish healthcare system a more effective and robust supply chain in an unsecure time[2].
Due to the corona pandemic and to prepare for future pandemics, the Danish government have decided to establish a permanent national agency with the responsibility of securing a central coordinating and inventory of personal protective equipment in case of future crises[3].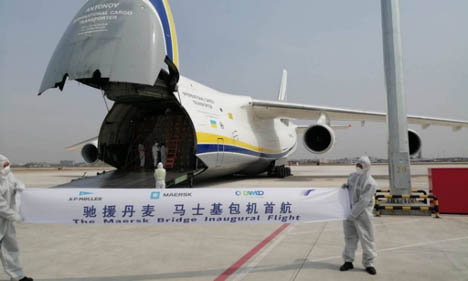 Image: The Maersk Bridge. Photo: Robert Uggla/Twitter