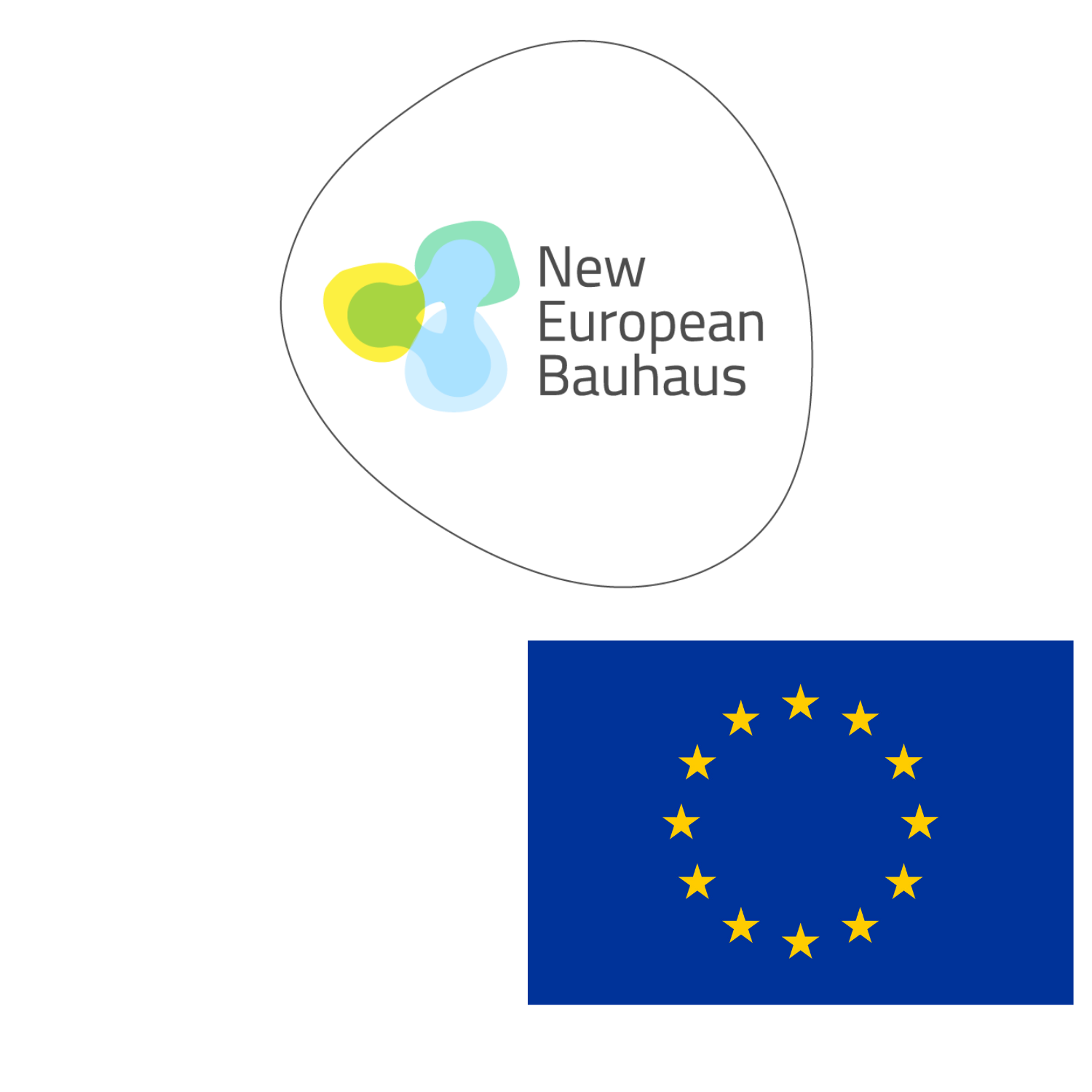 Support to New European Bauhaus Local Initiatives
Honouring and supporting the inspiring place-based transformative projects done by local public authorities.
NOTE! The call is now closed and we want to thank applicants for their interest and applications. The winner will soon be announced.
Video: La Fábrika de Toda la Vida, Spain © European Union, 2021
Our goal
The New European Bauhaus makes the European Green Deal a cultural, human-centred, positive and tangible experience for everyone, promoting the transformation and adaptation of our cities all around Europe through beautiful, sustainable and inclusive places.
Through this competitive call, we seek to incubate inspiring place-based transformative projects, that foster the three complementary values of the New European Bauhaus in daily lives, living spaces and experiences:
Sustainability – foster climate goals, circularity, zero pollution, and biodiversity
Aesthetics – increase the quality of experience and style beyond functionality
Inclusion – promote valuing diversity, accessibility and affordability
Specifically, we are looking to promote projects led by local public authorities and contributing to the New European Bauhaus in the following four action areas:
Renovation of existing buildings and public spaces in a spirit of circularity and carbon neutrality;
Preservation and transformation of cultural heritage;
Adaptation and transformation of buildings for affordable housing solutions;
Regeneration of urban or rural spaces.
This call is funded by the EU through the Directorate-General for Regional and Urban Policy and implemented in collaboration with Ramboll Management Consulting.
You can find more information on the New European Bauhaus concept and many inspiring projects that implement its values here.
The support
Do you have an advanced vision of how to reconvert an existing infrastructure, brownfield, or public space on your territory?
Can your project demonstrate a strong potential to benefit from our incubation and become one of our place-based New European Bauhaus Initiatives, exemplifying our values of aesthetics, sustainability and inclusion?
Are you enthusiastic about designing a forward-looking, future-proof and innovative project, addressing the local challenges of our times but also experiencing new added values for users, inhabitants, and territories?
Do you want to develop a project proposal for a local New European Bauhaus Initiative that is fit for competitive funding calls at national and EU levels?
Become a frontrunner of the New European Bauhaus, showcase how to create change on the ground, and make your inspiring transformative ideas known across the EU!
---
20 place-based projects will be selected to receive
up to 75 days of in-kind support by interdisciplinary experts
via a Technical Assistance Programme.

---
The programme includes:
Needs assessment: Experts will perform an assessment of the specific needs of the envisaged New European Bauhaus project and develop technical assistance plans with tailored support.
Support services: Experts will provide state-of-the-art project development and planning, stakeholder engagement (e.g., stakeholder mapping, citizen engagement) and technical advice (e.g., cost estimates, financing strategies, legal advice), according to the needs identified.
Implementation roadmap: Experts will support the beneficiaries in the incubation of the project towards a detailed roadmap that will guide and enable the implementation of their idea.
Specifically, the expertise that the winner projects can count on will include:


A variety of methodologies and toolboxes to combine nature, culture, inclusion and art in the design of liveable places and buildings;
Experienced project coordinators and high-level experts on sustainable liveable places and on stakeholder engagement (e.g., digitally enabled and data-driven anthropological methods);
Development of project proposals based on best-in-class place-based, participatory, planning and project development practices.
The experiences of the winning projects will be consolidated in a toolbox to provide a blueprint and further guidance for future project owners on how to integrate NEB principles.
Photo: Gardens in the Air, Spain © European Union, 2021.
Who can apply?
We especially encourage small towns and middle-sized municipalities to submit their projects. For this reason, this call is targeting local authorities under the threshold of 100,000 inhabitants and paving the way to a balanced representation of different kind of spaces and places across EU.
Please check if you comply will the main requirements to apply:
Geographical scope: based in an EU Member State
Type of entity applying: sub-national public authorities (e.g., cities, towns, districts, counties) as well as agglomerations, groups of municipalities and functional areas (including cross-border areas) that have all the competences required to implement the submitted project proposal
Size of entities applying: less than 100,000 inhabitants (within a group, each of the municipalities must have less than 100,000 inhabitants)
Project type: advanced project ideas to reconvert existing on-site infrastructure or public space
Project characteristics:

addressing all three core values of the New European Bauhaus – sustainability, aesthetics, inclusiveness
contributing to at least one of the four action areas

Exclusion of double funding: not already receiving similar EU support
Language: application to be submitted in English
Photo: Esseri Urbani, Italy © European Union, 2021.
How to apply?
Contestants are required to submit an online application form, including supporting documentation. The language of the applications is English.
The deadline for submissions was 30th May 2022,
and the call is therefore closed
What is the Commission's intention with this call?
The Commission seeks to incubate creative and ambitious project concepts by small and middle-sized local authorities towards a full integration of the New European Bauhaus dimensions. For this, the winning projects will receive in-kind support from a team of experienced experts that can go up to 75 days per project.
The knowledge gathered and lessons learnt during this process will feed into a "toolbox" that other municipalities and the wider public can use to inspire develop new or replicate existing New European Bauhaus projects on the ground.
How will the call help us implement our project?
The support provided consists in days of technical assistance benefiting to each laureate project.
According to your needs this technical assistance can help you set up a project that can successfully compete for EU funds, help you design a broad process for meaningful stakeholder participation, or provide expertise needed to improve sustainability, social inclusion and aesthetics dimensions of your project.
It can consist in methodologies of project development (planning, business model, funding) and stakeholder participation, territorial and urban strategy and/or specific expertise on liveable places, sustainability, urbanism, nature-based solutions, circular economy, applied to a reconversion project.
This technical assistance is tailored according to the needs identified with the project owner at the very beginning of the assistance and can go up to 75 days per project. The expert team will be compiled in in accordance with the needs assessment. The planned timeframe of the assistance is from September 2022 to up to December 2023.
Who can apply for this call? Can several municipalities apply together?
Eligible for this call are all sub-national public authorities that administer less than 100,000 inhabitants and have all the competencies they require to undertake the proposed transformation. There are three categories:
Category 1: a single municipality/local public authority;
Category 2: a group or association of municipalities/local public authorities or a functional area;
Category 3: public entity aggregating municipalities/local authorities, recognised as a tier of government.
The applicants of category 2 shall identify a main public authority within the group and list the others as associated authorities. For category 2 and 3, each of the local authorities of the group / functional area / aggregating public entity must have less than 100,000 inhabitants.
How can non-public actors contribute within this call?
Although only public authorities can act as applicants for this call, non-public actors such as universities, associations, companies or non-governmental organisations are strongly encouraged to support their respective municipalities in their projects as partners and stakeholders.
Only advanced project ideas are eligible – what does this mean?
The goal of the call is to support project concepts that have already made certain initial steps and to help them advance towards a full-fledged implementation roadmap, ensuring it will exemplify the values of New European Bauhaus.
To profit from this support, the winning projects need to have minimal maturity. This means that your project has:
identified the physical infrastructure or public space and selected the idea on how to reconvert it in line with the New European Bauhaus values and principles.
secured the support and political commitment to the project idea.
How can we apply?
Please submit an online application form, including supporting documents. The link to the form is available on this webpage.
The deadline for submissions is 30th May 2022 at 14:00 CET.
Please consult the applicants' guidelines and a video tutorial for further information.
What documents do I need to submit?
You need to submit three mandatory documents to enter the call:
Visual documentation: photos of infrastructure element or public site in question, additionally, if available – schemes
Letter of support by the political representative of the applying competent public authority (download as MS Word document)
Self-declaration form on the type of entity applying and the basic data (download as MS Word document)
To support your claims and improve your scoring, you are encouraged to also submit supporting documents, even though these are not mandatory:
Timeline with main milestones (download MS Excel template, if needed)
Visual draft, prototype or scheme of future design
Documents pertaining to stakeholders and participation (download MS PowerPoint template for a stakeholder mapping, if needed)
The documents need to be in English. Please see further explanations regarding these documents in the applicants' guidelines.



Do I have to use the Eurostat LAU-NUTS3 Correspondence table to prove my eligibility with regard to the population number?
Yes, to ensure that the data and reliable and comparable, the applicants are required to provide the code of their Local Administrative Unit (LAU code) and the corresponding population data, based on the Correspondence table LAU-NUTS3 by Eurostat, accessible at https://ec.europa.eu/eurostat/web/nuts/local-administrative-units. Please see 3.2. of the applicants' guidelines and the self-declaration form for detailed explanations.
The basis for the eligibility is the officially established population number, valid at the moment of the application submission. In exceptional cases in which this number is not reflected in the Correspondence table, and this affects the eligibility, alternative official population data sources may be included in the self-declaration form, as proof that the applicant authority administers less than 100,000 inhabitants.
By signing the form, the applicant confirms the authenticity of the information provided and the knowledge of the fact that this can be verified during the eligibility check, with consequences for the application admittance.
If in doubt, please contact the helpdesk at neb-local-support.helpdesk@adelphi.de
Do we need to answer all of the questions in the application form in one go?
No. You can start working on the form, save your progress and come back to working on it later.
The form will be active from 30 March 2022, 14:00 CEST to 30 May 2022, 14:00 CET.
Before you start working on the form, please read all the questions and consult the applicants' guidelines.
How does the selection of applications work? How will our application be evaluated?
Every application will be evaluated by two high-level experts that jointly cover all three core values of New European Bauhaus. Evaluators will give scores for every selection criterion, working with a unified guideline and a unified template to document the reasons for the scoring.
The evaluators will provide a shortlist of 40 proposals to a high-level Selection Committee that will identify the 20 winning proposals.
In the process of creating the shortlist and selecting the 20 winners, the experts will consider additional aspects to ensure a balance in terms of EU geographies, socio-economic characteristics and thus make sure that the wining projects represent a wide spectrum of EU realities on the ground.
We are not native English speakers – will the language quality of our application affect our chances of winning?
Your application must be legible, understandable and logical, but perfect English in grammar and style is not required.
Answering the questions in bullet points is encouraged as long as the overall message comes across.
Should we provide as much information as possible within the text length/file size limits of the application form?
The information should be as complete as possible, but this does not necessarily mean you need to use all the space available. Please try to minimise repeating the same information in different fields.
Answering the questions in bullet points is encouraged as long as the overall message comes across. However, please do not use abbreviations that are not widely known.
Who can we contact if we have questions?
Please see the applicants' guidelines for more information first, but if you have additional questions regarding the application process or the selection criteria, contact the helpdesk at neb-local-support.helpdesk@adelphi.de.