Embodied Carbon in the Building Sector
Ramboll, BUILD, and partners funded by the Laudes Foundation aim to incentivise EU policymakers to tackle embodied carbon through the establishment of baselines, targets, and benchmarks.
Read further to get access to the recently published reports: Towards embodied carbon benchmarks for buildings in Europe.
The buildings industry is bound to deliver its fair share to meet EU reduction targets for a climate-neutral continent by 2050: Buildings are evidenced to be responsible for 37% of global energy-related carbon emissions. 10% of total emissions stem from materials and construction.

While metrics and policies exist to target the operational emissions of buildings, much fewer target the 10% of materials and construction-related emissions. Reducing these so called embodied emissions in buildings represents an important opportunity to reduce overall emissions from this industry.
Tackling Embodied Carbon emissions
Funded by the Laudes Foundation, Ramboll - in collaboration with BUILD from Aalborg University and LCA experts affiliated to KU Leuven - assists EU policymakers, industry, and investors tackle embodied carbon by developing a methodology to calculate embodied carbon baselines, carbon budgets and benchmarks in the building industry using LCA data. In the first phase (2021-2022), the methods and concepts will be tested by piloting the baseline and target methods for the five EU countries: Denmark, Belgium, the Netherlands, Finland, and France, and outline a benchmarking framework for the reduction.

Throughout the duration of the project, key stakeholders from the building industry, policymakers on national and EU levels, embodied carbon think tanks and initiatives, as well as financial institutions and building councils from EU member states, are engaged to secure the relevance and feasibility of the methodology and study results.
Download reports:
Read about our findings
Webinar insights:
What gets measured gets done
On 26 April 2022 Ramboll and Laudes Foundation hosted a webinar about the EU Embodied Carbon Benchmark project.
Here the team behind presented the results of the study, followed by a discussion of the practical relevance of the findings.
See the recorded webinar by hitting the button below.
Why knowledge about embodied carbon is important:
- We can't implement the Paris agreement if we ignore embodied carbon in new buildings.
Important facts about Embodied Carbon
37%
of the global CO2 emissions stems from the buildings sector.
10%
of total global CO2 emissions comes from materials and construction.
2050
is when the European economy must be climate-neutral according to the 27 EU member states.
The Laudes Foundation
Laudes Foundation is an independent foundation joining the growing movement to accelerate the transition to a climate-positive and inclusive global economy.
Responding to the dual crises of climate breakdown and inequality, Laudes supports brave action that inspires and challenges industry to harness its power for good.
Aalborg University BUILD
BUILD at Aalborg University is Denmark's largest institute within construction, civil engineering, and the built environment.
The department is based on engineering science, but also contains important and comprehensive elements from the social sciences and humanities.
Ramboll
Ramboll is a global consultancy delivering sustainable change across 35 countries.
With a civil-engineering legacy, Ramboll also comprises management consulting, architecture, and environmental services to deliver a holistic take on the green transition – in the buildings sector and in similar industries.
The conceptual framework:
Setting baseline, benchmarks and target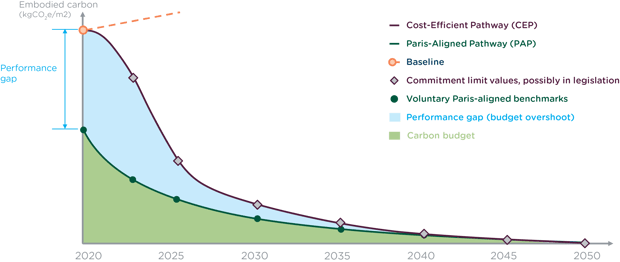 Baseline established by collecting and analysing LCA data on new buildings in 5 EU countries.

Carbon budgets and related targets for countries are set through an exploration of existing methods and appropriate allocation principles ensuring Paris Agreement compliance.

Benchmarks established by combining baseline and targets into a framework that guides the industry towards achieving ambitious emissions reductions and bridging the embodied carbon performance gap.
> Click to see the framework in large (Opens in a new window)
Get related insights on Embodied Carbon
8 circular economy actions for the sector
With materials management estimated to represent two-thirds of global CO2 emissions, most sectors need to develop in a more circular way. The buildings sector is no different.

In this thought piece, a team of Ramboll experts propose 8 circular economy actions. Actions that can help reduce emissions from buildings' materials by an estimated 60% compared to a baseline scenario.
Bringing embodied carbon up-front
Delivered by Ramboll and C40, The World Green Building Council's pioneering report demands radical cross-sector coordination to revolutionise the buildings and construction sector towards a net-zero future.

It is a 'call to action report' focusing on these emissions, as part of a whole lifecycle approach, and the systemic changes needed to achieve full decarbonisation
An EU roadmap on whole life carbon emissions
Ramboll and partners are supporting the EU Commission in developing a roadmap for the reduction of whole life emissions of buildings.
The project will e.g. help establish a baseline for embodied carbon emissions of buildings, set out how embodied carbon of buildings can be expected to evolve by 2050 and identify the impact of whole life carbon emissions reduction solutions.
Let's get in touch
Contact us if you are interested in the project and wants take part in the initiative.
Xavier Le Den
Market Director
Xavier is an experienced consultant specialized in public policy and sustainability advisory.
He accompanies clients globally on strategic and cross-cutting sustainability issues in the built environment and building sector.
Call Xavier: +32 497 89 83 58
Write an email to Xavier Le Den
Lars Riemann
Executive Director
Lars brings Strategic Leadership of Ramboll's business within the Buildings Market.
He has gained experience as a structural engineer within design and optimisation of light steel structures, incl. sheet steel structures
Call Lars: +45 5161 6897
Write an email to Lars Riemann