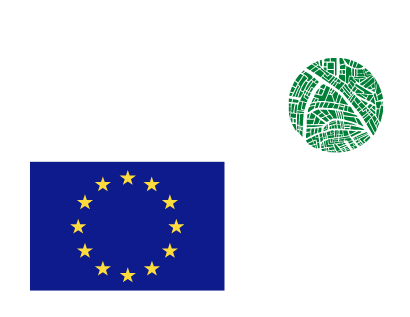 INTERNATIONAL CITY PARTNERSHIPS:
Acting for green and inclusive recovery (ICP-AGIR)
The International City Partnerships: Acting for Green and Inclusive Recovery is a project of the European Union and managed by the Directorate-General for Regional and Urban Policy (DG REGIO) of the European Commission.
The project is being implemented from October 2021 to March 2023 and originates in a pilot project of the European Parliament that seeks to contribute to the delivery of international commitments articulated in the 2030 Agenda for Sustainable Development and the UN New Urban Agenda.

The aim of the project is to contribute to the improvement of quality of life in participating cities, by promoting sustainable and integrated urban development, through the identification of innovative policies and programmes. In particular, the project seeks to develop policy and practice in four key priority themes of the Urban Agenda of the EU: circular economy, energy transition, air quality and inclusion of migrants and refugees.
The programme covers the following themes:
EU-Canada on urban policy cooperation on inclusion of migrants and refugees – 4 EU cities with 4 Canadian Cities.
EU-South Africa urban policy cooperation on integrating circular economy and nature-based solutions for their key benefits in terms of just energy transition – 4 EU cities with 4 South African Cities.
EU-Asia urban policy cooperation (Singapore, Taiwan, South Korea) on circular economy (including energy transition) and air quality - 6 EU Cities with 6 cities in South Korea, Taiwan, and Singapore.
City Pairings
South Africa and EU
Cape Town and Free and Hanseatic city of Hamburg
Cape Town is the second largest city in South Africa after Johannesburg. It is also the oldest urban settlement of the country, dating back to the 17th century. Sometimes colloquially called the Mother City, Cape Town is known all over the world for its attractive natural setting. With the Western Cape Industrial Symbiosis Programmer (WISP), Cape Town has been showcasing a circular economy model that connects companies with business and unused or residual resources such as materials, energy, water, logistics and expertise. WISP has substantially helped to divert waste from landfills and reduce fossil emissions in the city. The African Centre for Cities, an interdisciplinary research hub addressing urban challenges, is located at the University of Cape Town.

The Free and Hanseatic City of Hamburg is an international innovation, sustainability and economic centre in Germany. The local implementation of the European Green Deal as a comprehensive growth strategy is the guiding principle of Hamburg's urban development policy. It, therefore, forms the guiding idea of its international co-operations. Furthermore, Hamburg has undertaken great efforts to put its Smart City approach into fruition by putting into effect various interdisciplinary pilot projects and utilising smart technologies.

Themes of Cooperation:
eThekwini and Greater Porto Region
Durban, as part of the eThekwini Metropolitan Municipality, is the third-largest city in South Africa as well as one of the largest cities on the Indian Ocean coast of Africa. The Port of Durban is sub-Saharan Africa's largest shipping terminal and the fourth-largest container terminal in the Southern Hemisphere, serving as the main trans-shipping port for goods to the economic powerhouse of Johannesburg and various southern African countries. South Africa's Wildlands Conservation Trust (WILDTRUST) is implementing the project, "A Circular Economy Approach to Plastic Leakage in the Durban Port" which aims to reduce plastic waste leakage into and out of the port. eThekwini also engages in innovative wastewater recycling projects and zero water solutions for the informal sector.

The Greater Porto Region, a LIPOR-Association of 8 Municipalities in Portugal, boasts an Intermunicipal Waste Management System that treats ca. 500,000 tons of municipal waste and is responsible for the management, recovery, and treatment of the Municipal Waste Product. By assuming that waste management is carried out from the point of view of the resource, LIPOR establishes all efforts in its most appropriate valorization, which is based on the projection of a circular business model and is supported by demonstration projects of support circular practices. The Organization's performance allows to consolidate a position that is favoured by the creation of value in the productive cycle, characterized by the reintroduction of "waste" as a "resource" in the value chain. LIPOR intends to be the driving force behind the Circular Economy, through the sharing of new strategies and the search for more effective solutions.

Themes of Coopertaion:
Visioning for Decision Makers
Circular Economy Pact
Environmental Awareness Plan in School
Renewable Energy
Tshwane and Stara Zagora
The City of Tshwane Metropolitan Municipality, centred on the City of Pretoria, only exists since 2000, combining 13 different cities and towns. Its land area increased threefold. As the seat of the executive branch of government, Pretoria is one of the three capital cities of South Africa (besides Cape Town and Bloemfontein). The City was established as a new capital in 1855. With 3 large universities, the city has made a name as an academic research centre. Pretoria hosts the largest number of foreign embassies on the African continent. Due to space constraints in the inner city, Pretoria has gradually expanded to the East, with many new modern urban developments incorporating circular economy components. Work has also begun on the $5bn "Mooikloof Mega City project, constructing 50 000 apartments with green building principles.
Stara Zagora is one of the oldest cities in Bulgaria, located in the historical region of Thrace. The city and its region is fully engaged in the Green Deal and the Just Transition towards a more sustainable future with zero emissions, less energy consumption and a cleaner nature. Stara Zagora cooperates actively in multiple knowledge exchange programmes across the European Union. Those include, but are not limited to, the NEXTAGRI initiative; which exchanges experience and good practices in the area peri-urban agriculture, and the S3 Hydrogen Valleys; which develops technologies for production, storage, and usage of hydrogen as a sustainable source of energy.
Themes of Cooperation:
Energy efficiency
Mitigation of the consequences of climate change (Green infrastructure)
Greening of investments, both existing and incoming investment
Improvement of the working conditions and mitigation of the impact on productivity
Johannesburg and Parma
Johannesburg is the largest city in South Africa and its economic centre, contributing close to a fifth of the country's GDP. Its business district Sandton, home to many national and international companies and banks, is known as "Africa's richest square mile". The city was established after the discovery of large deposits of gold in the 1880s, hence the informal name of "eGoli" ("The City of Gold"). Soweto (South Western Township), which used to be a separate municipality, is now incorporated into the City of Johannesburg, bringing the population to 5,8 million, with the metropolitan area extending beyond 8 million. Johannesburg is known for being one of the pilot cities of the revised National Waste Management Strategy which is based on Circular Economy principles. The city is also home to Waterfall City, an award-winning green smart city megadevelopment.
Parma, a university city based in Italy's Emilia-Romagna region, is strongly committed in its evolutionary process towards sustainability and fair development. In the recent years the Municipality has done a lot in terms of city planning, energy efficiency and waste management initiatives. Regarding waste collection and circular economy, as part of their Zero Waste Strategy, in 2018 they launched a Territorial Pact for Circular Economy with the participation of institutions, universities, enterprises and the local community to make Parma a true national circular economy laboratory.
Themes of Cooperation:
Waste management
Pick-it-up
Door-to-door collection
Pay as you throw
Overcome not in my back-yard sentiment
Smart City solution
City Pairings
Asia and EU
Singapore and Milano
Singapore and Milano
Singapore is a sovereign island city-state in Southeast Asia. Ranked highly in key social indicators, such as education, healthcare, safety, and housing, it is a thriving metropolis offering a world-class infrastructure, a fully integrated island-wide transport network, dynamic business environment, vibrant living spaces, and rich culture. Singapore's commitment to sustainable development is clearly showcased in its greenery – nearly 50% of the island is green space. Singapore's Green Plan 2030 aims to advance the city's transformation into a greener, more sustainable city by 2030.
Milan is a city located in northern Italy, and is the second-most populous city in Italy after Rome. The city of Milan has been active in city diplomacy and city-to-city exchange for many years and have expertise within urban food policies. Their dedication to food waste systems, with a particular focus on local actions devoted to sharing knowledge on recovering food losses, waste management, urban and peri-urban agriculture has proven their dedication to promote circular economy.
Themes of Cooperation:
Food waste minimization, water reclamation and waste-to-energy
Energy transition on green buildings and decarbonizing the energy grid
Gwangju and Athens
Gwangju Metropolitan City is the sixth largest city in the Republic of Korea. A city of democracy, human rights, and peace, Gwangju has been the site of several independence movements, influencing the democratization movement in Asian nations. Gwangju is utilizing artificial intelligence to build its transformation into a carbon-neutral, energy self-reliant city that directly produces, supplies, and consumes energy within the city. In addition, Gwangju is the host of the International Climate and Environment Center (ICEC), which serves as the Secretariat of the Urban Environmental Accords (UEA). Gwangju is proud to share its considerable dedication to green transition and prior experience the EU programmes.
Athens, the capital, and the largest city in Greece, has been implementing a series of important development projects on sustainable urban development and international exchanges which promote economic and social welfare, especially in improving the quality of life of the citizens of the Region and Athens. Some of the initiatives they have taken include the investing in Green Energy Transition Technologies, new action plans for their Circular Economy and various research programs in the policy topic of Air Quality.
Themes of Cooperation:
Air Quality - Joint application for external funding
Climate change - Joint participation to COP27
Incheon and Berlin
Incheon Metropolitan City is the third largest city in the Republic of Korea. It is an international city that hosts the country's largest airport and serves as a major port city. Incheon is a centre of industrialization and hosts large local companies and global enterprises in the Incheon Free Economic Zone (IFEZ), such as Samsung. The Songdo International Business District, located in the IFEZ, is a ubiquitous smart city and the home to the UN Green Climate Fund. Incheon boasts expertise in smart city technology and integration, with a strong focus on circular economy and energy transition.
Berlin, Germany's capital, is a large multicultural metropolis and the European Union's most populous city. They have large ambitions for their urban development plans in sustainable and environmentally friendly development in a densely populated city. By implementation of multiple use, re-use and circular economy approaches and solutions displayed by different projects from the re-use of hole areas to smart-building solutions, Belin has made strides in their best practices for urban development plans.
Incheon Metropolitan City is the third largest city in the Republic of Korea. It is an international city that hosts the country's largest airport and serves as a major port city. Incheon is a centre of industrialization and hosts large local companies and global enterprises in the Incheon Free Economic Zone (IFEZ), such as Samsung. The Songdo International Business District, located in the IFEZ, is a ubiquitous smart city and the home to the UN Green Climate Fund. Incheon boasts expertise in smart city technology and integration, with a strong focus on circular economy and energy transition.
Berlin, Germany's capital, is a large multicultural metropolis and the European Union's most populous city. They have large ambitions for their urban development plans in sustainable and environmentally friendly development in a densely populated city. By implementation of multiple use, re-use and circular economy approaches and solutions displayed by different projects from the re-use of hole areas to smart-building solutions, Belin has made strides in their best practices for urban development plans.
Themes of Cooperation:
Smart City / Circular Economy - Decentralized smart city projects in Incheon and Berlin
Urban Regeneration– Citizen focused urban regeneration – sustainable urban regeneration project with the association with citizen community after the end of public funding
Research – Smart City: Cooperation on decentralized smart city projects in Incheon and Berlin – share & exchange smart city projects between two cities
Incheon and Almeria
Incheon Metropolitan City is the third largest city in the Republic of Korea. It is an international city that hosts the country's largest airport and serves as a major port city. Incheon is a centre of industrialization and hosts large local companies and global enterprises in the Incheon Free Economic Zone (IFEZ), such as Samsung. The Songdo International Business District, located in the IFEZ, is a ubiquitous smart city and the home to the UN Green Climate Fund. Incheon boasts expertise in smart city technology and integration, with a strong focus on circular economy and energy transition.
Almeria is a city and municipality of Spain, located In Andalusia. Currently the city is carrying out its 2030 Strategy Plan in a push towards more sustainable development. Their strategies and expertise fall within these nine work vectors: Mobility and Communication Infrastructure, Agro-Industry and Bio-Industry, Culture, Sustainable Tourism, Blue Economy, Innovation and Smart City, Employment and Education, Diversity and Social Inclusion, and Climate Change.
Themes of Cooperation:
New and Renewable Energy – Hydrogen solutions
Energy Transition - Research cooperation on sustainable energy
Strengthened Cooperation - Business / Smart mobility
Long-term City Partnership Discussion - MoU
Taichung and Prato
The City of Taichung is the second most populated city in Taiwan. Surrounded by the mountains and the sea, Taichung has developed an inclusive land, sea, and air transportation network that seamlessly connects different parts of the city. Taichung places a strong economic focus on agriculture and industrial development. Since the city is a site of manufacturing and industrial complexes, air quality is also an area that Taichung pays attention to. Additionally, to ensure sustainable development, the city has implemented more greenery, including parks, squares, parkways, and greening along roads and waterways. The restoration of landfills into eco-parks helps add greenery while also providing renewable clean energy in the form of solar power.
The city of Prato lies in the northern part of Tuscany in Central Italy, 17km apart from the region's capital Florence, and close to world famous cities of art, like Pisa and Siena. Prato's textile industry has anticipated the circular economy by historically basing its fortune on the reuse of textile waste from textile productions from all over the world. Techniques to recycle textile scraps that were developed at the end of the 19th century led to the recognition of Prato as one of the most innovative industrial cities in Italy. Prato anticipated by decades such concepts as the "green economy" and the sustainable management of productive chains, by adopting very early on the principles of the Circular Economy and have engaged in solving such urban challenges ever since.
Themes of Cooperation:
Solar energy installation
Circular economy – city collective resource recycling facilities, textile waste recycling, upcycling
Air quality
Taoyuan and Braga
Taoyuan City is the fourth most populated city in Taiwan. Taoyuan International Airport, located in Taoyuan, is the biggest and busiest airport in Taiwan. Aiming to develop into a low carbon green city committed to sustainable development and adapting to climate change, Taoyuan has been devoting attention to utilizing circular economy in its urban development. In Taoyuan, one of the main focuses for start-up industries is in environmental and energy technology. With the Taoyuan City Government Circular Economy Platform, a platform established to promote the utilization of converted materials in city civil engineering projects, Taoyuan's commitment to circular economy and sustainable development is clear.
Braga is the third largest city in Portugal. It's municipality has been a pioneer city in the implementation of the United Nations Agenda 2030 in the organization and in the territory, but also in the engagement with other territorial and regional organizations that allow it to leverage the achievement of its sustainability goals. Since the launch of the SDG in 2015, the Municipality has aligned its activities and participate in numerous cooperation projects to showcase their dedication to solving the issues and challenges of our suffering planet.
Themes of Cooperation:
Application of Circular Economy - Smart City Algorithm – Scaling up best placement algorithm for shared mobility
Academic partnership and Exchange program between University of Minho and YuanZe University – Circular Economy/Air Quality
Air Quality – Lower emissions through the use of electric vehicles - Battery Management System (BMS) Development for Braga
City Pairings
Canada and EU
Toronto and Frankfurt am Main
Toronto is Canada's second most populated city and the capital of the province of Ontario. It is a dynamic metropolis and considered one of the most multicultural and diverse cities in the world, with half of the city's population being born outside of Canada. Inclusion of migrants and refugees is a topic of significant interest to the City of Toronto. While representing 8% of Canada's population, the city receives more than 25% of all new Permanent Residents to Canada and an even larger proportion of newcomer with complex needs, such as refugees and refugee claimants. As an only non-EU signatory of the Integrating Cities Charter, the City of Toronto is interested in a deeper collaboration on migration, including information exchange and learning about best practices that can be applied in Toronto.
Frankfurt is the fifth largest city in Germany, an international center for the finance world and maintains a multitude of international relationships concerning business, trade or culture. Since Frankfurt is home to a diverse group of people spanning from 178 different nations, the questions of integration and participation of migrants and refugees are highly topical. In 1990, Frankfurt was the first city in Germany to set up its own office for multicultural affairs. A targeted and appropriate admission and care of immigrants has always been a central issue of city policy. Thus, solutions and discussions concerning integration of migrants and refugees, increasement of participation and equal opportunities for them, fighting racism and discrimination and creating a city community that is based on social cohesion has been of high importance.
Themes of Cooperation:
Migrant Story Telling
Objective: Showcase diverse, multivocal and individual migrant experiences in Toronto and Frankfurt.
Joint Toronto-Frankfurt Newcomer (Virtual) Office
Objective: Establish a virtual, structured joint staff team (or joint office) to work on municipal migrant issues and on sustainable solutions.
Halifax and Fuenlabrada
Halifax is the capital city of Nova Scotia located in Canada's east coast. Halifax's Immigrant Services Association of Nova Scotia (ISANS) and the Local Immigration Partnership (LIP) initiative works with partners from many different sectors related to helping newcomers settle in Halifax and promote inclusiveness, which makes for a good pairing city. Additionally, as a maritime city on the Atlantic Ocean, Halifax also places significant importance on coastal management and adaptation, while at the same time integrating energy security and a transition to low carbon.
Fuenlabrada, a city in Spain located in the Community of Madrid, has been fostering international cooperation and collaboration among European and non-European cities for multiple year. They have been committed to collaborative and cooperative values, making good use of the economic resources that have already been invested in the European Union by promoting and improving sustainable development, and ensuring balanced growth. An important objective has been to combat inequality and facilitate integration and inclusion processes, which has been recognised by the implementation of integration and inclusion policies for immigrants and refugees since 90s.
Themes of Cooperation:
Employment Opportunities – MILMA adaptation to Connector Programme. Objective: Generating a network of "Connector" people during the implementation of the MILMA Project
Internship Exchange "The Fuenlabrada-Halifax Bridge"
Objective: Improve Employment and training activities among cities improving MILMA and Connector Project
St Johns and Utrecht
St. John's is the closest North American city to Europe and the oldest European populated city in North America, with one of the largest Universities in Canada and a growing immigrant community. With a population of 125,000, St. John's is a small city, which has a moderate but rapidly expanding immigrant population, and thus eager to learn and adapt to develop its immigrant services and support structures. A recent influx of refugees from Afghanistan results in a strong drive of the City of St. John's to retain and integrate newcomers. The commitment of the province to support immigration initiatives also makes for a very engaging and active pairing.
Utrecht is a leading city in innovative policies on refugees, migration, integration and inclusion in the Netherlands. They are nationally and internationally known for their innovative Plan Einstein approach in the reception and integration of refugees, which has granted them extensive political and local support for their inclusive policies on refugees. They pride themselves on being a "welcoming city" and a human rights city, as also acknowledged by the United Nation Human Rights office (OHCHR).
Themes of Cooperation:
University-to-University Cooperation
Development of mechanisms for Public Private Partnership at the Municipal level
Best Practice exchange on inclusion at the municipal level
Stephenville, Corner Brook and Saint Germain en Laye
Stephenville and Corner Brook are towns located 80 kilometers away from each other in Newfoundland and Labrador, Canada.
Stephenville is located in scenic Bay St. George, has a population of 6,600 and is the service centre for a catchment area of 25,000. Stephenville is known for installing soon the first green energy production facility in whole Canada, has a sound economic infrastructure based on long-time commercial interests and industries. Stephenville also is the home to a blend of French, English, Scottish and Mi'kmaq Indian ancestries, combining to form a unique mixture of culture and tradition.
Corner Brook is located on the Bay of Islands at the mouth of the Humber River, has a population of 19,333 and is the fifth largest settlement in Newfoundland and Labrador. Corner Brook functions as a service centre for western and northern Newfoundland, and it is the administrative headquarters of the Qalipu Mi'kmaq First Nations band government.
Saint Germain-en-Laye is a dynamic, environmentally friend and prosperous city located 20 kilometers west of Paris. It is distinguished by a large number of expats and education institutions, among which the international high school with its 14 sections, is a unique facility in France. Over the past 5 years the number of migrants and refugees has increased significantly, and the municipality has initiated several projects and measures for their inclusion, trying to enhance their competences and help them make a decent living.
Themes of Cooperation:
To exchange best practices in labour attraction and retention
To build effective inclusion programs supporting the above
To build comprehensive bounds, between municipalities, educational facilities, and the private sector
Study Visits
The study visits of the programme took place between June and December 2022 (March 2023 for Taiwan, due to the COVID travel restrictions). During the study visits cities continued working on the themes explored during the bilateral online meetings, updated the cooperation action plan and learned first-hand from the best practices identified in the hosting city.
To meet more counterparts than those participating in the online platform meetings and to establish a personal connection with the counterparts that will last longer than the project duration, the visits were organized with flexible timings, and only in South Africa took place simultaneously. The average duration of the study visits was 5 days, and the average number of participants was 5 from each city.
For more detailed information about the study visits, please visit our social media channels clicking the links below!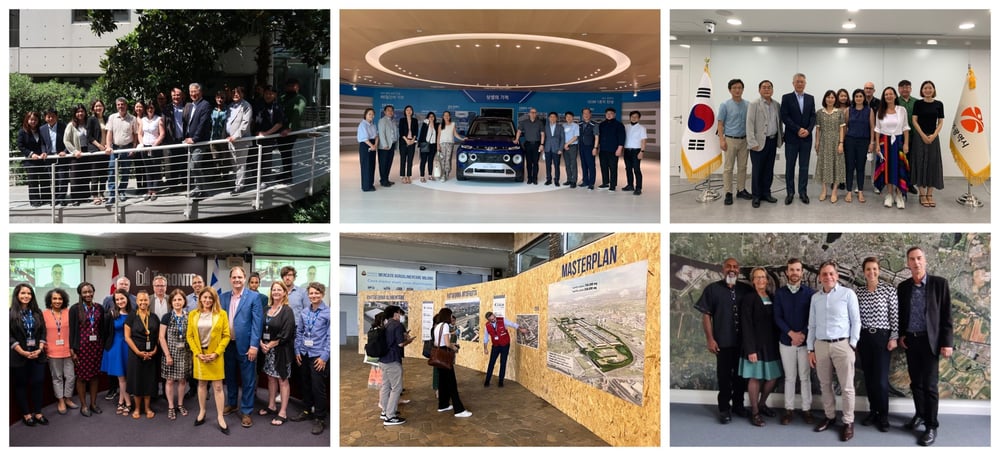 Thematic Clusters
Introduction
Thematic clusters are at the core of the ICP-AGIR project, constituting substantial qualitative progress for cities. The cities interact with several cities from different countries around a thematic area of major interest for both European and non-European cities.
Based on these thematic clusters, the cities develop on their cluster cooperation work, identify and develop concrete pilot projects and concepts, as well as best practices.
The thematic clusters have been set up in the internal online platform and are only accessible to ICP-AGIR cities, nevertheless, webinars and expert sessions are also available in our Youtube Channel (See below for links).
The thematic cluster under the ICP-AGIR project is presented below:
Inclusion of Migrants and Refugees
In this cluster, cities from Canada and EU work together to advance the Action Plan of the EU Urban Agenda (2016) on Integration, which sets out the priorities and main actions of the European Commission's work on integration. Among others, the themes discussed are:
Inclusive education and training
Improving employment opportunities and skill recognition
Promote access to health
Adequate and affordable housing
Circular Economy and Energy Transition
In the cluster of circular economy and energy transition, cities from Asia, South Africa and EU are sharing best practices and developing the Action Plan of the EU Urban Agenda (2016) for Circular Economy, that establishes a concrete and ambitious program of action, with measures covering the following cycle:
Production and consumption
Waste management
Market for secondary raw materials
Energy transition
Air Quality
This cluster topic is focused on Asia and EU cities, and touches upon the Action Plan of the EU Urban Agenda (2016) for Air Quality and its four concrete topics of action:
Modelling city-specific situations
Mapping of regulatory instruments and funding
Recommendations on air quality good practices
Developing a guideline for cities' air quality action plans
Best Practices
Below some of the best practices from ICP-AGIR cities are collected
Milma Project
Fuenlabrada (Spain)
The MILMA Project facilitates inclusion processes through team-work and re-training, and rising employment opportunities.


Connector Programme
Halifax (Canada)
The Connector Program works with immigrants and recent graduates to help them make networking connections and understand the local labour market.


Plastic Pact
Johannesburg (South Africa)
The collective vision is a world where plastic is valued and retained in a circular economy, with benefits of job creation, economic growth and the prevention of plastic waste pollution in the environment.
Climate Adaptation Observatory of Attica Region
Athens (Greece)
It collects, processes and visualizes climatic, meteorological, atmospheric, geospatial data and information related to policies, projects and interventions affecting the protection of the environment.
Ukraine Crisis Response
Toronto (Canada)
Over 50,000 Ukrainians landed in Toronto as of February 3, 2023, with more than 5% of arrivals requiring emergency accommodation. With the City of Toronto's shelter systems at capacity, the GTHA Ukraine Response Program was quickly initiated to meet immediate housing needs and facilitate coordination across six municipalities.
Incheon Hydrogen ecosystem strategy
Incheon (Republic of Korea)
The city of Incheon has promoted building the hydrogen production cluster, supplying green hydrogen mobility, and creating dispersed hydrogen fuel cell generation at industrial complexes and power plants.





Digital Twin-based Fire Response On-site Command Platform
Incheon (Republic of Korea)
The Platform visualizes the information of fire accidents and disaster sites as well as the location of dispatched vehicles in real time and provides support for emergency personnel to effectively establish the response strategy and take actions.
Diverting organic waste from landfill: Combined energy and compost production
Hamburg (Germany)
In Hamburg, 70,000t organic waste are being treated annually and produce 350 to 700m³ biogas per hour. This leads to a production of 2.5 to 2.8 Mio m" biomethane per year which is fed into the city's gas grid, but it could also be converted into electricity.
Strategy Countering Anti-Queer Violence in Frankfurt am main
Frankfurt am Main (Germany)
To counter the rising queerphobic violence in the night-time economy in queer spaces, namely the "Bermuda Triangle" area, in the city of Frankfurt, the Strategy LGBTIQ Coordination Committee works together with the civil society, the Frankfurt City Council and the police to ensure that the strategies of safety, prevention, awareness concepts and empowerment are worked on.