Free whitepaper:
New approaches to policy implementation
Get your hands on a whitepaper that describes how public executives can address the complexity of policy implementation.
This white paper is about implementation and large scale change in the public sector.

The white paper helps you grasp the complexity of implementation - and equally important - how to cut through it by providing step-by-step methods and techniques.
Use the whitepaper as a toolbox for implementation
On the basis of the 30 interviews, Ramboll has conducted with public sector executives this white paper offers you the opportunity to reflect on what efficient implementation looks like, how it is nurtured, and what your role as a leader might be.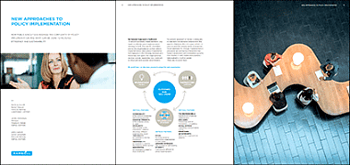 You can read the white paper from the top, but it also invites you to find your own path through the text and figures.
Fill in the form an get the Whitepaper
Successful policy implementation
Learn more about how public executives address the complexity of policy implementation and what can be done to increase efficiency and sustainability.
Download now and learn more about:
Implementation through capacity building
The human side of implementation
The toolbox for implementation strategies
How to make change happen
Utilising new approaches

For decades, political scientists have studied and demonstrated the challenges regarding implementation in the public sector.
A new approach among public sector executives gives reason to believe that implementation will be more successful in the years to come.
Download Whitepaper
You'll receive the whitepaper just seconds after submitting the form.
Whitepaper based on interviews
Ramboll conducted 30 interviews with public sector executives in national ministries, regional and local governments in Northern Europe in order to describe their approaches to and their experience with implementation.
Amongst the Ministries and Governments are: